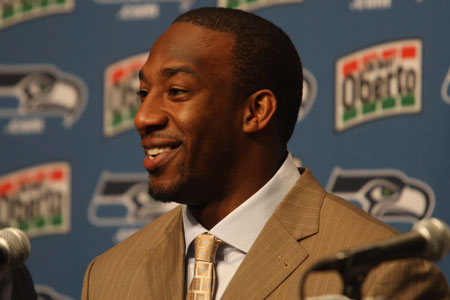 Back in 2007, Seattle's NBA franchise drafted some skinny kid named Kevin Durant, who was given the task of returning the SuperSonics to NBA championship glory.  Well, we all know how that gut-wrenching and painful sports drama turned out. 😥
The Seattle sports scene has yet another chance to bask in the glory days of "old".   The Seattle Seahawks, fresh from a 4-12 season in 2008, drafted Aaron Curry, a highly-touted linebacker from Wake Forest, as the #4 overall pick in the NFL 2009 draft.  Some have said Curry is one of the best LB prospects drafted this decade.  Could the Rookie of the Year and the Pro Bowl be in Curry's future in the upcoming 2009-2010 season?  Stay tuned…
Just today, Curry signed a projected 6-year, $60M contract, with $36M guaranteed.  That's quite a pocketful of change for a player that has yet to play a down of NFL football.
With the signing of wide receiver TJ Houshmandzaheh, the return of Matt Hasselbeck from a back injury, and Curry plugging the holes in Seattle's anemic defense, our hopes are high for the 2009 Seattle Seahawks.
Leave a Reply
You must be logged in to post a comment.