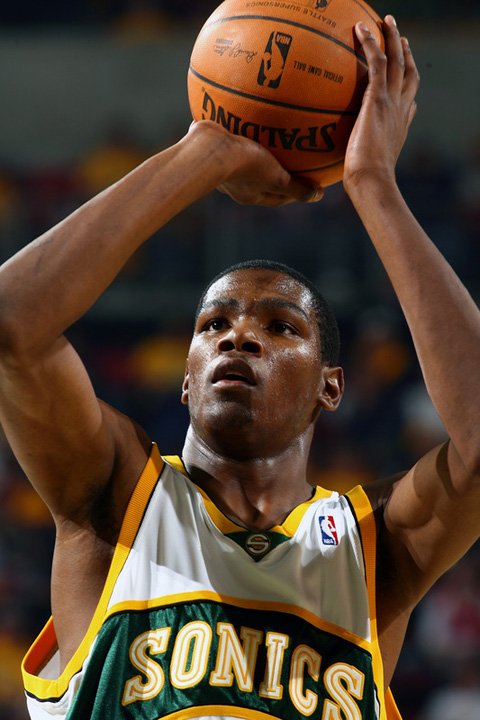 Alias: KD
High School Cred (Oak Hill Academy, VA/Montrose Christian School, MD):
2005 Parade Second Team All-American
2006 Parade First Team All-American
2006 USA Today First Team All-American
2006 McDonald's All-American
2006 co-MVP of McDonald's All-American Game
College Cred (University of Texas):
2007 John R. Wooden Award
2007 Naismith Player of the Year
2007 Adolph Rupp Trophy
2007 AP National Player of the Year
2007 AP All-America 1st Team (unanimous)
2007 Oscar Robertson Trophy
2007 NABC Division I Player of the Year
2007 ESPY Award — College Athlete of the Year
2007 Big 12 Tournament MVP
NBA Cred:
2007 NBA Draft – 1st Round (2nd pick overall) by the Seattle SuperSonics
2007 NBA Rookie of the Year (Practically a given. The more intriguing question will be "Who will finish 2nd in the voting?")
There you have it. A lanky, shooting forward has taken on the burden of leading the Seattle SuperSonics to the NBA promised land – the NBA playoffs and eventually, an NBA championship. He IS Kevin Durant – #35. No other high-school player (since LeBron James) or other college underclassman (since Carmelo Anthony), has come into the NBA with so much hype and potential for greatness. With Greg Oden, who was the top pick in the 2007, out for the season to recover from knee surgery, all eyes will be on KD.
Although KD will put up the dazzling offensive stats, I'm being more realistic and hoping for SuperSonics to at least end the season with a winning record. I believe the playoffs are out of the question, given the talent around KD. With Ray Allen in Boston and Rashard Lewis in Orlando, KD doesn't have much of a supporting cast. Furthermore, there will always be the lingering dark cloud the of The Nameless Owner moving Seattle's oldest sports franchise to a city down south where the cows outnumber the people. 👿 Hopefully, the players' focus will be on winning games, not wondering where their home will be next year.
The SuperSonics belong in Seattle!
Leave a Reply
You must be logged in to post a comment.