New era.  New look.  I guess with the new coaching staff, there was bound to be some changes in other aspects of Husky football.  However, I didn't know they were going to change the uniforms this soon.  This was a shocking revelation that I knew of only a few days ago!
The picture above only shows three of the different Husky uniform options.  There is also an all-white uniform and a uniform with a purple top.   I'm more of a traditionalist and I prefer the purple top and gold pants.  The main thing that grates me is removing the pants striping.  The picture below shows the new pants striping on the uniform with white pants.  Ugh…
On a side note, a unique item on the white uniforms are the "frost" texture helmets.  I think this is cool.  See the picture below.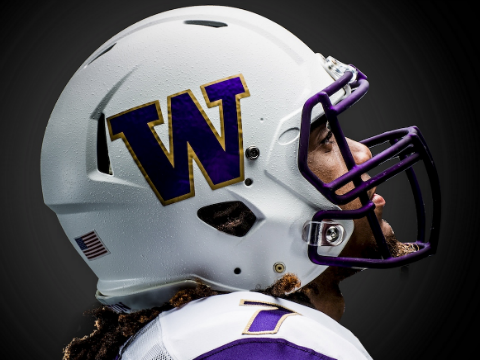 If you would like to see the entire run-down of all the new Husky uniform details, click this link.
Leave a Reply
You must be logged in to post a comment.