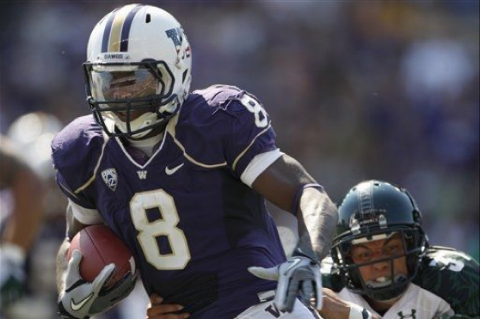 For the first time since 2007, the Huskies are 2-0 after beating Hawaii, 40-32.  Although undefeated, it is worrisome that the Huskies' defense has given up over 300 yards passing in the past two games. As a surprise to the fans in Husky Stadium, the Huskies wore white helmets, I believe, for the first time in their football history.
I'm very surprised how well QB Keith Price has played.  In the past two games he has passed for 7 TDs and has completed over 70% of his passes.  However, these stats should be taken with a grain of salt, since this offensive surge has come against Eastern Washington and Hawaii.  Let's see how Price does against next week's foe, Nebraska.  This won't be easy, as it will be a road game.
In regards to the white helmets, they were worn in commemoration of Patriot's Day, a tribute to the fallen heroes of 9/11. You can read more about it here. Asthetically speaking, the white helmets go well with the white pants.  Another special detail on the helmets, was the W-logo, which was filled with the American Flag.  I was never fond of the white pants the Huskies have worn, but with the white helmet, it would be a good combination.  However, when the traditional gold helmets are worn, they should always be in combination with the gold pants (preferred) and the purple pants.
You can see more pics of the white helmets below.
All photos above are courtesy of Coach Sark's blog.
Leave a Reply
You must be logged in to post a comment.