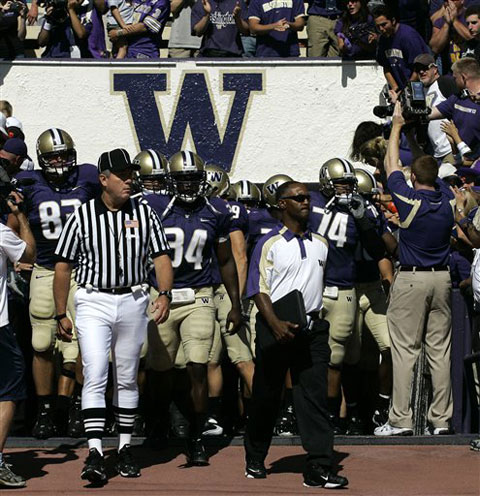 After defeating lowly Syracuse 42-12 on the road to open the college football season, the Huskies defeated Boise St., 24-10 at home in the 2nd week. That win ended Boise St.'s 14-game winning streak, which was currently the longest in the nation.
In week 3, the Dawgs will face the Ohio St. Buckeyes at Husky Stadium on Sept. 15. With the Buckeyes ranked as the #10 team in the nation, this will be a good test for up and coming, red-shirt freshman QB Jake Locker, who is leading this Husky revival.
As UDub head coach Tyrone Willingham has noted, this years' Huskies team still has much room for improvement. With college football's most difficult schedule, the Huskies will have played five Top 20 ranked teams in its first seven games. This also includes the #1 ranked team in the nation, USC.
On a side note, sorry to hear Michigan and Notre Dame are off to 0-2 starts, the first time that's ever happened at the same time. Besides, good teams always go through these up and down cycles. Unfortunately, it seems Notre Dame has always been in a down cycle since the mid 90's and it is getting much worse. They have committed to playing freshman QB Jimmy Clausen for the remainder of the season. Coach Willingham, terminated by ND after just 3 years, must be chuckling right now.
Leave a Reply
You must be logged in to post a comment.