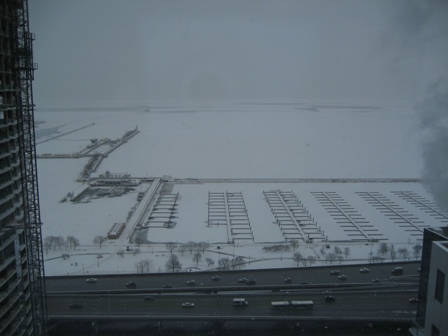 This picture was taken from our 39th floor, high-rise apartment in downtown Chicago, in February 2007.  It got very cold during this period – on this day, it was -20 °F.  Did you read that correctly?  That's MINUS TWENTY DEGREES FAHRENHEIT.  It was quite a climate shocker for a home-grown, Southern California boy like me, who is used to 72 °F and sunny weather.  I'll take the Santa Ana winds over this Chicago weather insanity, anytime.
What you are seeing is Lake Michican, which is basically covered in about a foot of snow.  I was told The Lake won't completely freeze through, just at the edges.
The street below is Lakeshore Drive.  The building on the left is another high-rise apartment building under construction.  Just a few months ago, we had an unobstructed view of the Navy Pier, but now it's gone forever.
Leave a Reply
You must be logged in to post a comment.